The Influence Series

Programmes to Persuade
PRETTY POWERFUL PRESENTATIONS
Presentation Skills training like no other. A laser precision focus on language, structure, voice techniques, body language and what to do with those pesky slides.
Are you ready to take your presentation skills to the next level? Welcome to Pretty Powerful Presentations, the ultimate presentation skills training that equips participants with their own personalised toolkit for presenting with greater impact, individuality, and confidence. Whether you're a seasoned professional aiming to refine your skills or a newbie looking to master the art of captivating presentations, our one-day course is for you.
Why Choose Pretty Powerful Presentations?
Experience presentation skills training like no other. Our unique approach fuses data-driven methods with expert techniques from the world of theatre and drama. This practical course distils down every part of a presentation including content, body language, managing nerves and being visually engaging with or without slides!
Outcomes for Individuals
Join thousands who have embarked on the journey to presentation mastery. Our curriculum offers a transformational path to:
Master Presentation Writing Develop a flexible and effective structure to maximise productivity and creativity for any future high-impact presentation.
Present with Congruence Learn to appreciate and activate your personal strengths to ensure that what you say is matched with how you say it, building trust with your audience.
Create Emotional Resonance Master the use of the human voice, and win over your audience with personal storytelling, humour and vulnerability.
Engage Your Audience Boost your ability to engage and captivate your audience throughout your presentation with practical tools and newfound confidence.
Outcomes for your organisation
Pretty Powerful Presentations isn't just about personal growth – it's also about elevating impact across the organisation
Revolutionise presentations: Discover innovative and influential presentation techniques from behavioural experts, and ensure that your team is equipped to deliver them with excellence.
Boost confidence: Enable your team to confidently step up to any speaking engagement.
Maximise impact: Supercharge the impact and confidence of your workforce.
Build connections: Forge lifelong bonds among participants and create a ripple effect of positive impact throughout your organisation.
After completion of the course, you will receive:
A comprehensive report highlighting their presentation strengths and areas for growth
Before and After presentation recordings
The offer of a personalised coaching session with their facilitator to further improve their skills, address any challenges they may have encountered since the training, and refine their virtual presentation techniques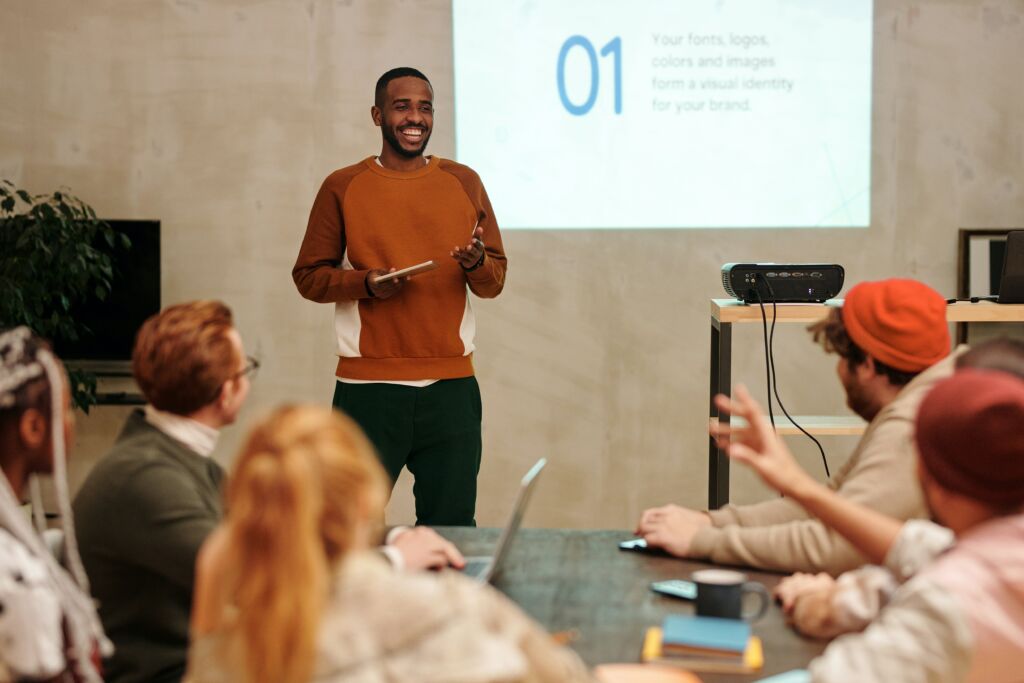 "I would work with People People happily.. their approach is unique to everyone.."
BILLIE BARNES
LONDON MARRIOTT HOTEL GS
We've warmed up and are ready and waiting in the wings to discuss how we might be able to support you and your people.
TO EXPERIENCE WHAT WE OFFER