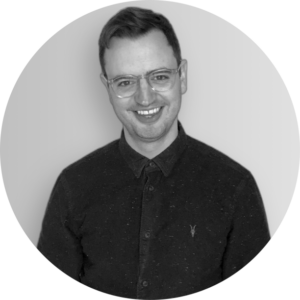 ROBERT KIRBY
Company Director
Home educated until the age of ten, Robert found life at school a little difficult. Six years of anxiety and quietness followed and whilst he didn't quite know how to navigate social circles, he found a passion for acting. He soon realised that the skill of an actor could be stolen and used outside the rehearsal room until believed – a little confidence, a voice that could be heard and an energy that starts to engage people. Friends were found and sense of self gained. Hungry to learn more, he followed in the steps of Hugh Bonneville, Daniel Craig, Chiwetel Ejiofor and Helen Mirren by joining the National Youth Theatre and furthered his training at London based Drama School Rose Bruford (Pat from Eastenders went there!). Certain at this point that the skillset of a good actor is the ability to communicate superbly and wanting to spread that far and wide, he founded People People with the support of the Prince's Trust in 2017 to do just that. He trained as an Executive Coach with Henley Business School and has created the People People Way, fusing psychology, acting tools and coaching principles to partner with people to enhance their full communicative potential.
Background
Behind People People is a methodology that inspires and lasts far longer than the workshop itself, creating a re-skilling and up-skilling state of mind that deepens an individuals sense of empowerment and interpersonal freedom.
Understanding that behind a good actor is a delicate combination of the inner world of a person and the communication choices they have available to them, Robert now focusses on using that understanding to support organisations and the individuals within them to expand their attitudinal, vocal, physical and linguistic capabilities.
Working with a wide body of participant audiences including apprentices, graduates and middle, senior and C-suite leaders, he has a particular interest in the areas of wellbeing, presentations, personal impact, influencing and storytelling.
Style
Robert and his team create learning environments that feel fresh, fun, and emotionally safe so that participants can maximise learning and immediately apply skills back in the workplace. He works with a rehearsal room like and practice led methodology, supported by expert individualised feedback and coaching conversations, enabling his clients to discover new approaches and choices that empower them to think differently and reach new levels of peak performance.
Qualifications
BA (hons) Acting – Rose Bruford
Professional Certificate in Executive Coaching – Henley Business School. 
 OUR ASSOCIATES
We have a pool of diverse and experienced facilitators, actors, writers and psychologists. We keep a deliberately small number to ensure continual training for them so that their delivery and feedback is expert and that the right people are there to help your people.
HEAR FROM WHO WE'VE WORKED WITH